Note: Peer Saif-ur-Rehman has died.
Today I visited Sheikh Zaid Hospital (adjacent to Punjab University) Lahore, Pakistan where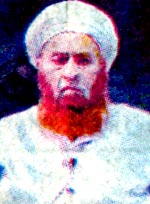 Hazrat Saif-ur-Rehman (grandmaster of the saifi silsila lineage) has been admitted and is in critical condition in icu. He was admitted due to the complain of myocardial infarction (heart attack) which got resolved but he later on developed aspiratory pneumonia and is now in the state of septicemia.
Mr Saif-ur-Rehman was placed on ventilator initially when he arrived with the MI, but later on when he was stable, the ventilator was removed, which unfortunately lead to aspiration and caused aspiration pneumonia. Many of Mr Saif-ur-Rehman's students and followers of Saifi silsila arrived at the hospital to see their teacher from all over Pakistan. He also had some students of saifi silsila in the staff of the hospital already.
At the time when we visited Mr. Saif-ur-Rehman, two of his saifi silsila students were there with him who were managing the visitors who came to see him there. One of them was his official translator. Although rude, but their management was in favor of Mr Saif-ur-Rehman.
I was not allowed to take picture of Mubarak sahab (Saif-ur-Rehman Sahab) by the attenders.
May Allah give Mubarak Sahab health and may he get well soon and resume his teachings to his students of Saifi silsila.