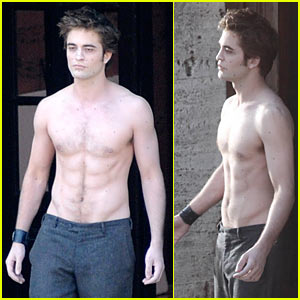 Recently talked in a magzine about his fluctuating weight, Robert told that he started going to gym. Yes, we know Robert, how difficult it is to maintain body structure and to look like model always. Robert was afraid of, if he gets too much weight. Thats why, he focused on losing weight and for this, he had to spend 5 to 6 hours in gym. He said more that " when he observed, with the decreasing of his weight, face got broad and huge, he had became more conscious because face was not matching with his over slim and smart body.
He thought of quitting workout and tough exercies and started eating cheese bugers. Now accordnig to him, he is comfortable with both his face and body because neither his weight is increased too much nor his face is looking  bigger than his physique. Thank God, robert. How much you want to decrease the pounds? Your body is an ideal body for all yours die-hard fans and you don't need to look smarter as you already have good body structure.
As we all know that how alluring Robert was looking in Twilight New Moon, when he putt off his shirt in order to make hismelf exposed in front of human beings. Nobody can say that he had gained weight. You must maintain your current gesture because it ideally maches with your whole personality.