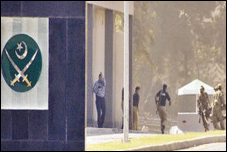 Today, on 27th of October, 2009, the mastermind of the recent Military General Headquarters (GHQ) Pakistan, Qari Ishtiaq was arrested and a huge amount of modern arms and ammunition has been taken in custody from his possession. He is said to be the central commander of Punjabi Taliban, Pakistan.
Sources said that seven more terrorists has been arrested after being identified by Qari Ishtiaq during interrogation.
Among seven extremists arrested upon identification by Qari Ishtiaq, three were from Gujranwala, three from extremists and one from Mailsi.