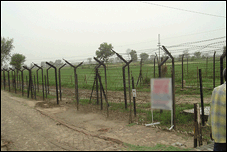 Today on Monday, 26th of October, 2009, Pakistan Rangers captured an Indian spy from Lahore, Pakistan, near the Indo-Pak border area of Bedian.
The name of the Indian spy is said to be Rabi Gopal and age 25 years. Rangers' personnel have claimed that they recovered some important documents from his possession.
This is the second Indian agent who got captured in 48 hours. Two days ago, another Indian secret agent Giyan Chandar was also arrested by the authorities from Kala Katai, Pakistan. Both the arrested Indian agents were not carrying travel documents including passports.
Rangers handed over both the Indian agents to Pakistan Intelligence agencies for further investigations.