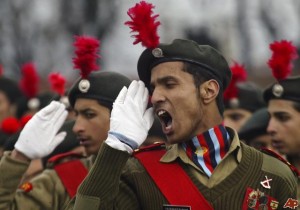 India asked around 15,000 indian troops in the Occupied Kashmir area to return back to India. Reason given is that they are moving some troops back in the end of October 2009 due to the improvement in the security situation in Occupied Kasmir.
This could be a perfectly valid reason though, but some critics and people are taking it in a different direction and have their own opinion about this.
It's being considered that this could be due to the reason, that now India needs more troops in the waziristan and other areas of Pakistan, where many other foreign agents have been captured and killed already, and today Army announced that they have reached almost 4 km from the main area of the terrorist millitants in the Waziristan area. Critics are considering that this could be a move to increase the troops of the trained people who are trained and working on groud in the Occupied Kashmir area already, instead of deploying fresh troops who are on the peace land currently.
God knows what is it really related to, we can just pray that this is not the valid reason though!
May Allah forgive us all and have mercy on us. . .