After Shahid and Kareena's seperation, both had found their partners i.e. Priyanka Chopra and Saif Ali Khan but still there are some rumors that Shahid and Kareena didn't stop talking to each other. It's very surprising that they both have declared their seperation but they are talking as several people have witnessed their messages on Facebook.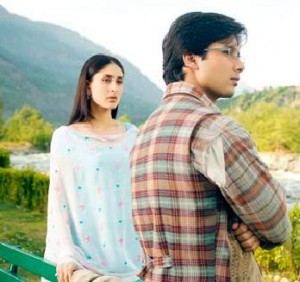 On 31 Jan 2009, Star Screen 16th Annual Award ceremony was held in which shahid have given the most adorable performace being viewed by thousands of people live and millions of people on T.V. When Shahid was giving his best performance, camera was fixed on one point, where Kareena was standing and peeking deeply into the performance of him. Over and again, camera was kept on capturing the shots of Kareena and she was failed to see that she is being captured.
Maybe, while seeing the performance of Shahid, Kareena would be regreting on which kind of act, she had done with the Shahid. Even, in rehersals, Karina was focusing on the Shahid's performance and was watching it keenly by sitting in the hall. What a stupid girl, who has left very cute boy. I really sympathize with Shahid's feeling because Kareena did wrong to her and made relation with that guy, who is alreay married and having one child. Whats your standard Kareena?