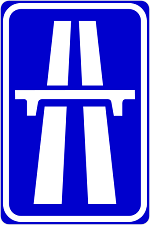 Some time ago from now, there was a bomb blast in a car on the motor way. The bomb blast happened when the Motorway police tried to stop the suspected car and the person inside it blew himself near Chakwal, Pakistan.
The attach is part of the current wave of suicide bomb blasts which started in the month of October, 2009 in Pakistan. This attack happened at around 1:45 am on 25th of October, 2009.
The suicide bomber exploded him near the Islamabad-Lahore Motorway Interchange (ILMI) late at Saturday night, 25th October, 2009 resulting in the death of a Sub-Inspector.
The motorway police spokesman stated that the motorway police officials were trying to intercept and stop a suspected vehicle and upon indicating him to stop, he blew himself up with explosives near the Islamabad-Lahore Motorwar Interchange, killing the Sub-Inspector Motorway Police Shah-e-Iran.
Motorway police was informed around 10pm on 24th october 2009, that there is a terrorist carrying explosives from Peshawar to Lahore. Motorway Police chased the silver car which they asked to stop near the Kallar Kahar and chakwal Interchange where he was taken out of the car and during that the car exploded and the Motorway Police officer Sub-Inspector died on spot. The age of the arrested driver was was taken out of the car before it exploded was around 24 to 26 years of age. 20 lac will be given to the family of the Sub Inspector dieing in the blast will .
Police caught another suspected person near the blast and he has been taken to the unidentified location for investigation. Motorway Police saved the Lahore from some very big loss!
There are intelligence reports of more terrorist attack in the coming days of October 2009 and November 2009 in all over Pakistan. Click here to read more about intelligence report.
Please suggest What can we do for Pakistan in current crisis situation?