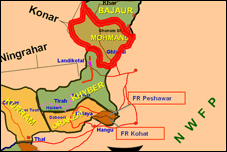 A bus having passengers going to a marriage party hit a landmine in tehsil Lakro of Mohmand Agency today on 23rd of October, 2009, killing eighteen people due to the blast.
The marriage party bus struck the anti-tank landmine planted by the militants in tehsil Lakro of Mohmand Agency on 23rd October, 2009. Eighteen people including women and children have been killed on the spot and four women, two men injured due to the blast from the landmine. The injured were rushed to the hospital.
The anti-tank landmines were placed by the militants in the Lakro, Mohmand agency against the Army convoy due to the on going operation which is underway against the militants and foreign terrorists in the Mohmand agency.
May Allah bless those who died in the blast, and give peace to their relatives and friends.