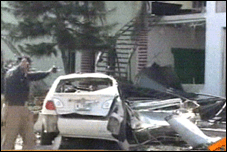 Another terrorist act in Peshawar, Pakistan, a car bomb blast done via remote control in the posh area of Hyatabad, Peshawar, Pakistan on 23rd of October, 2009.
The exploding car was parked outside a restaurant in Hyatabad Phase 2. Gun shots were also heard after the blast. No one died on the spot due to the recent hyatabad, peshawar remote control car bomb blast, but fifteen people were injured in it. Police cordoned off the area and police officials and rescue workers shifted the wounded people to Hyatabad Medical Complex.
Law enforcement agencies have arrested a suspected man who they shifted to undisclosed location for interrogations.
The bomb disposal squad sources informed that the bomb blast took place via remote control bomb inside the car with almost 40 kilogrms of explosive.