Today, on 20st october, 2009, at around 3:15 pm,there were two blasts in the Islamabad Campus of the International Islamic University. One in the female cafeteria and the other one in the staff room of the shariat staff of the boys wing.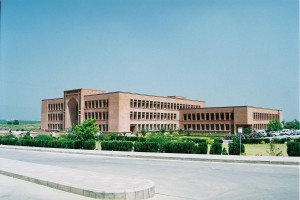 A couple of weeks ago, One of my friend told me that they got days off on tuesday and wednesday from now on due to no lecture on that day in International Islamic University, Islamabad Campus. Well, fair enough, she was pretty much fond of sitting in the cafe, and specially, this time used to be their lunch time. It was nice to know that luckily, due to the day off on Tuesday, she got saved from the blast in any matter, but one of her far friend died. And she is very much disturbed by this. The guard of the cafeteria who tried to stop the suicide bomber, but then let it pass, also died. . .
Its being reported officially that almost 6 people are dead in the attack and several injured, but by student sources, some said that around 15 were dead.
Now the stuff, who did those attacks? well, no clear answers! there are 2 possibilities:
So called talibans did this, as they have been involved in almost every suicide attack in the country in last couple of years.
Anti taliban stuff did this, to prove that talibans are anti Islam too . . . (war tactics)
There were information about these attacks from last few days and all institutions were warned about the possible attack. Although many schools and college were closed, but the universities remained open, resulting in this painful event.
May Allah bless who died in the attack, and give patience to their relatives and parents and their friends.