Huma, the wife of former Pakistan Cricket team captian Wasim Akram died in a hospital in Chennai, India on Sunday 25th of October 2009 due to multi organ failure (heart and kidney).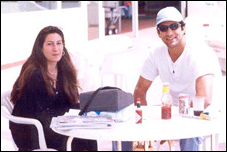 She was admitted to Apollo Hospital in Chennai, India last Tuesday after her condition deteriorated on board an air ambulance flying from Lahore to Singapore where she was due to be treated.
Arrangements are underway to bring her body back to Pakistan.
She had left two children behind her . . .
Ijaz Butt, the PCB chairman also expressed his grief over her death and said that we are with Wasim Akram and his family at the time of grief and pain and pray that God give them strength to bear this irreparable loss.
Huma was herself a trained medical pratitioner and had a brief stint as psychologist for the Pakistan Cricket team in the mid 1990's.
May Allah bless her soul and give patience to her family and friends.